Hello Readers,
Time for a Kloset Transition! Believe it or not, it's time to ditch summer clothing and start hunting for new items for fall. To me, fall gives me the desire to start fresh and discover new trends for the season to incorporate into my closet. As many of you already know, Autumn/Winter 2012 collections are all about the textures, the details, and not to mention the prints.
Prints are the highlight of this season. Somehow, if you mix up all the designer's collections together, you'd probably notice the distinction of prints from different eras. From Baroque to Modern to the all time classic prints.
-Dolce & Gabbana A/W 2012-
-Balmain A/W 2012-
Dolce & Gabbana blew everyone away with their collection. They take us back to the 17th and 18th century, with the use of intricate detail, bold floral prints and embellishments. D&G outdid themselves, and included every single detail in which Baroque embodies- the tapestry, the lace & the gold embroidery. Balmain also embodied Baroque, however with a slightly modern twist. Instead of showing off detail from head to toe, Balmain presented the Baroque trend on a more wearable side. Baroque details are only showed as statement pieces- either an embellished top, a detailed jacket or trousers and keeping the rest simple and basic.
Below are some street style pictures embodying the autumn trends. Florals are also very in this season, but keeping the dark bold colours which we all associate with fall and winter. To me this type of floral print is also associated with Baroque, since the print looks like part of a 17th century painting.
-Street Style (floral prints)-
In order to incorporate baroque in your own closet, I looked up some clothing items from on-line retail stores so that everyone can embrace the baroque trend without looking too costumey.
1.Lace
2.Tapestry
3.Bold Dark Floral Brints
4.Baroque Prints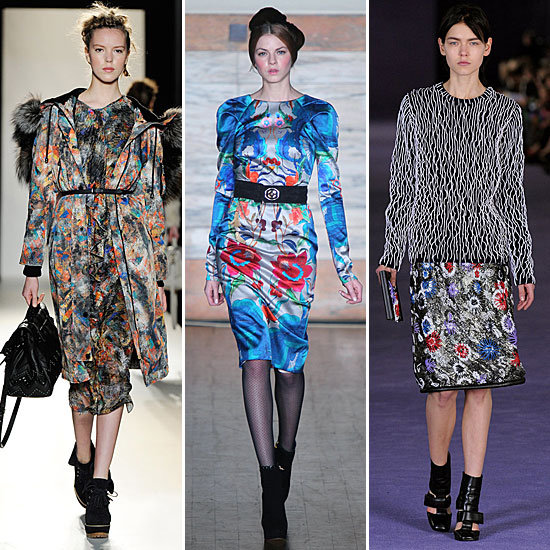 -Mulberry, Temperly London, Christopher Kane A/W 2012-
From the 17th century back to the 21st century, delivering aspired modern collection with digital and geometric prints. It is all about symmetry and colours which both embody the modern trend. These prints can be worn either as a staple piece or mix and match with different patterns. Below are also some clothing items at affordable prices that can be found in stores which also incorporate the geometric and digital prints.
-Michael Kors A/W 2012-
-Christian Dior, House of Hollad, Pucci-
Even though trends change, designers still feature the classic prints in their collection. 1. Hound's tooth 2. Tartan or plaid 3. Polka Dots 4. Stripes, all remain key prints which never fade in fashion, and have been around throughout several years. Every girl should have at least one of these classic prints in their fall wardrobe. Check out these great pieces which you can easily find in stores featuring New Look and River Island.